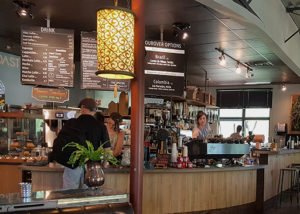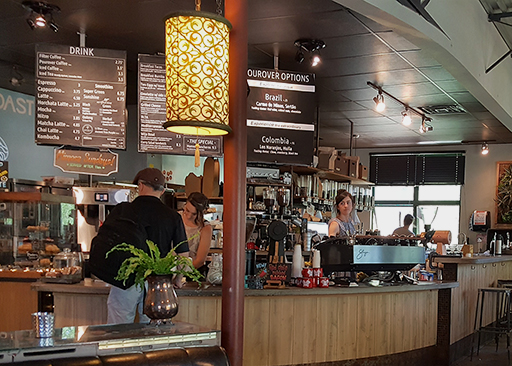 My wife and I just got back from a three week stay in Santa Fe, New Mexico. Whenever we travel, I like to check out the local coffee shops. I find it's a good way to really get a feel for an area and the people that live there. And, as I explained to our landlord for the casita we were staying in, it's not that I'm connoisseur of coffee, it's more that I'm a connoisseur coffee shops.
We picked Santa Fe for our vacation this year as there was a photography workshop my wife wanted to take. Her being tied up with the workshop the first week gave me a plenty of time to explore the local coffee shop scene at my leisure. In the mornings, I would drop her off at her workshop and then head out in our rental car for a morning coffee and something to eat. I would go out sightseeing. Often I would have time to hit a coffee shop for a an afternoon pick-me-up before I had to pick her up from the workshop. This gave me plenty of chances to check out some of the local coffee businesses several times, and at different times of the day.
One of the first coffee shops I found was Capitol Coffee, on Old Santa Fe Trail. It's located next to an upscale grocery store in a small shopping center at the intersection of Paseo De Peralta and Old Santa Fe Trail, just east of the historic area of Santa Fe. It was fine, as far as shopping center coffee shops go. Nothing special, but better than a generic Starbucks. They served a variety of locally roasted coffees had had a decent selection of pastries. It was a typical storefront, with big plate glass windows across the front, and bright fluorescent lighting. There was a counter at the back of the store with the standard curved glass display cases for pastries. There was plenty of seating at small tables on the right half of the store. The clientele was about what you would expect for a shopping center – husbands and wives, small groups of two or three people taking a break from shopping or working in one of the stores, the occasional mother with one or two kids in tow. Most everyone looked like standard suburban types, except for two men that came in together. One was a typical middle-aged man, wearing a coat and tie. I figured he was probably a shop owner in the shopping center. The other guy was a little older. He had a long, droopy mustache and big ten-gallon cowboy hat to go with the standard khakis and button shirt, kind of the cowboy Sam Elliott look. Most of the clientele stayed to drink their coffees, not tarrying too long. There were very few take-out orders. Nobody seemed to be a regular. And, outside of myself, I noticed only one other person with their head in a computer or tablet. Overall, Capitol Coffee seemed like an okay place to stop if you were at the shopping center anyway. But probably not someplace to drive to for your coffee fix or to camp out to use their WiFi.
A much better alternative, just a couple of minutes away, was Downtown Subscription on Garcia Street. Downtown Subscription is a combination coffee shop-magazine stand. It's tucked next to local bookstore in a very tight parking lot, just off Canyon Road. Luckily, there is another more accessible lot one building away. The magazine selection at Downtown Subscription tends towards the arty side, befitting the shops location near the Canyon Road art galleries. There's plenty of seating, both inside and outside, in a small enclosed garden area.Inside are 9 square, worn, blond wooden tables, rigidly arranged in a tight 3×3 grid. Each table has 2 wooden chairs, the same color as the tables. It reminded me of elementary school desks in their regimented rows and columns. There are a couple of other tables along one wall and a couple of high top tables to the side of the service counter.  There are a handful of umbrella tables and chairs in the garden area for those many beautiful Santa Fe days.
Downtown Subscription was probably my second overall choice for coffee shops in Santa Fe. The clientele skewed older than most other coffee shops that I have been to, more to the middle aged and older side. The patrons seemed to be evenly split between people with their heads buried in their electronic devices and groups of 2 or 3 leisurely conversing while enjoying their lattes. Nobody seemed to be in a hurry. The coffee was good, but I had better in Santa Fe. The ambiance was okay. I liked that it was a more mature clientele and the people seemed relaxed, but the regimented seating bothered me. I kept waiting for the manager to come through and make sure that all of the tables and all of the chairs were perfectly aligned in the neat little columns and rows.
The best coffee that I had in Santa Fe was at Ohori's Coffee Roasters, on Cerrillos Road. Cynthia, our Santa Fe landlord, had recommended Ohori's Coffee Roasters. Ohori's has two locations. One behind a Walgreens on St. Francis Street. The second in a set of small semi-industrial shops on Cerrillos Road near the intersection with Paseo de Peralta. Both locations are very nondescript and have very limited parking. I couldn't find any parking at the first location, and so ended up at the Cerrillos Road location.
The clientele at Ohori's Cerrillos Road seemed to be mostly office workers from nearby businesses. There was a nice diversity in the ages of the patrons. Some were in their 20's, more in their 30's, and a handful of middle-aged people. There was limited seating, a couple of small round tables in the small space in front of the counter. Each table had 4 chairs, but there was really only room for 2 or 3 people, at most, at each table. There was a short counter alongside one wall with a couple of stools. The place was busy, but not crowded, a constant flow of people coming and going. Most of the business was take-out. Of course, Ohori's had free WiFi. But the sign on the counter with the WiFi password noted, "At busy times, please use at counter". I only noticed one person using the WiFi while I was there, and they were sitting at the counter.
My go-to coffee is an Americano, black, no sugar. My Ohori's Americano was one of the best that I've had, and certainly the best in Santa Fe. But I wasn't really taken by the ambiance. Ohori's seems to know and accepts its place as a carryout shop. All of their drinks were served in paper to-go cups. If I worked in the neighborhood, I would likely go there most mornings, and probably each afternoon for a cup, to go. And, maybe on days where I really needed a break, I settle in a chair at one of the one tables and quietly enjoy my coffee for a few minutes.
My favorite coffee shop in Santa Fe was, hands down, Ikonic Coffee Roasters on Lena Street. It's located in a faux/used-to-be industrial neighborhood near the intersection of 2nd Street and Cerrillos Road. The neighborhood is now mainly hip, artsy, creative shops and businesses. Ikonic is located in a section of what looks like old warehouses or light industry shops that sprawl over a couple of blocks around a small parking lot. The building is sheathed in what is supposed to look like aged tin, but is more likely new aluminum distressed to look like aged tin.
Inside, Ikonic also sprawls around. There are two entrances, one off of the parking lot and one that opens onto a small courtyard hard along Lena Street. Coming in the parking lot doors, the interior space curls off to the left, in front of an large, old, unused coffee roaster. The roaster is tucked under a spiral staircase that leads off to nowhere, a closed-off second floor. There is a small cozy seating area next to the staircase, with a couch and two upholstered arm chairs around a low coffee table. Just past the little seating area, around the corner from the parking lot entrance, is the counter where you order.  A wooden counter with several bar stools extends from the ordering station, separating the kitchen and coffee prep area from the main seating area. There is a large rough cut wooden table with black slat back chairs running down the middle of the space. A bench runs all along the outside wall. Five or 6 small tables, each with a chair, face the bench.
One of my favorite things about Ikonic is that they have a good size menu for a coffee roastery. In addition to pastries, they offer standard breakfast fare of bagel sandwiches, omelettes, breakfast burritos, and of course, this being New Mexico, huevos rancheros. For lunch, they also offer things like lamb or salmon sliders, and a Korean Steak Bowl. And, in line with the youngish, hipster/artsy clientele, they also offer dishes like grilled cheese (either with roasted tomato, spinach, and pesto, or brie with a berry compote), organic ramen or quinoa bowls, and a plate of roasted vegetables.
The coffee and food were very good at Ikonic. But I really liked the clientele and vibe of the place. By the middle of my second week in Santa Fe, I was going to Ikonic pretty much every day. It was a comfortable place to work on my tablet computer, or to just people watch. Most of the clientele was young, 20's maybe early 30's. Maybe a third of the people were middle aged, especially on the weekends. People came mostly in two's. I liked sitting at the large communal table in the middle of the floor, with my tablet computer and keyboard open. I could eavesdrop and make notes on several conversations at a time, to really learn what the area was like.
There is a second Ikonic location nestled in the Collected Works Bookstore on Galisteo Street in the historic, touristy section of Santa Fe. It serves the Ikonic Coffee Roastery coffee and the same pastries. Parking, being that the shop is located just a block or two from the historic Santa Fe Plaza, is limited. But there are a few big pluses for this location: it is part of a small, but packed bookstore, the coffee shop area isn't very crowded, and the seating is very comfortable. And, it shares the same friendly, customer driven staff as the Lena Street Ikonic.